What Would Thomas Edison Think?
Posted by Judy Craft on Monday, December 16, 2013 at 9:34 AM
By Judy Craft / December 16, 2013
Comment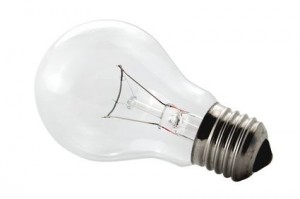 Purchased a light bulb lately?
Easy, right?
Wrong!!
I typically buy light bulbs at the grocery even though the cost is a bit higher than a home improvement store. After factoring in the extra trip plus the amount I would spend unnecessarily at Lowes or Home Depot, I actually save money by paying more at the grocery, if that makes sense.
I prefer a clear 60 watt bulb for my exterior lights which is a fairly easy find--or rather it used to be. The grocery appeared to be out of my preferred bulbs for two weeks in a row so I decided to bite the bullet and go to Lowes. Thinking I would just run in and grab the bulbs without looking to the right or left in my attempt to avoid additional purchases, imagine my surprise when I was met with an entire aisle of light bulbs, none of which were clear OR 60 watt. What the heck?!?!
There were curly-Q's, curly-Q's with a cap (guaranteed to last longer than my dog at a cost of $17.98), bulbs with a blue tint and so much more. I was so confused I didn't even want to ask for help because the thought of listening to a 20 minute dissertation on the different bulbs was NOT the way I wanted to spend my Saturday morning! Finally, on the bottom shelf I found an off brand of clear 60 watt bulbs. Sure, I run the risk of the house burning to the ground but it will look great for an hour or so!
Everything improves and changes with research and development as well as experience. So it stands to reason that if we don't keep up with a product as simple as a light bulb, imagine how confusing a real estate sale or purchase can be? 90% of today's consumer start their home search online, so our website has to be easy to maneuver and attractive with great information and, most importantly, plenty of clear, crisp photos that accurately portray the features and amenities of the property.
Our Realtors must be educated in both the market and technology in order to make the Buying and Selling process as trouble and error-free as possible. Our Management and a Staff have to be up to date and ready to assist our Sales Team to enhance both the Agent and Consumer experience. Milestone Realty Consultants is ahead of the competition in service and commitment to our Clients and Agents.
Are you keeping up with Industry changes or staring with confusion in the real estate aisle? Jump in and stay up to date with our Technology training over the next few months. 2014 promises to be a banner year so make sure you are ready!!