Walden Mortgage Weekly Newsletter: July 17, 2012
Posted by Ashley Whitworth on Tuesday, July 17, 2012 at 7:28 PM
By Ashley Whitworth / July 17, 2012
Comment

Number of Underwater Mortgages Decline:
"Underwater" mortgages are when a person owes more on their home than the home is worth. Most borrowers that did find themselves underwater was due to a rapid fall in home prices when the housing market tanked. But as home prices come back, the number of borrowers that are underwater are falling. This is very important to the housing market because this has started to release a segment of purchasers that have been essentially trapped in their house, unable to sell it so that they could make the move to another home. The number of Americans who owe more on their mortgages than their homes are worth declined in the first three months of the year, aided by a modest rebound in U.S. home prices. While improving, the number of underwater mortgages remains far higher than in a healthy housing market, when about 5 percent of home loans are underwater. U.S. home prices rose in 19 of 20 major U.S. cities in April from March, according to the Standard & Poor's/Case-Shiller index. That was the second straight month that prices rose in a majority of the cities tracked by the index. A measure of national prices registered an increase of 1.3 percent — the first gain in seven months. Low mortgage interest rates have helped drive home sales higher this year, fueling price increases. In some markets, a lack of homes for sale has led to those on the market receiving multiple offers.
What Happened to Rates Last Week?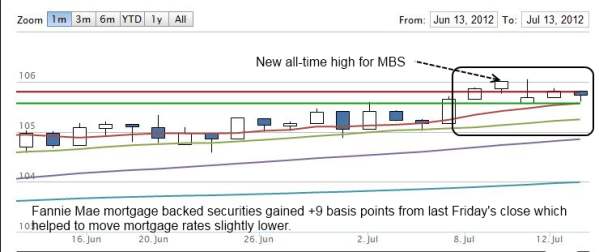 Mortgage backed securities (MBS) gained 59 basis points from last Friday to the prior Friday which caused 30 year fixed mortgage rates to move lower. Mortgage backed securities set a new all-time record on Wednesday but by Friday's close we had pulled back -31BPS from that record high. Mortgage rates move in the opposite direction of MBS, so mortgage rates set a new record for an all time low on Wednesday but it was very brief. We had our highest mortgage rates on Friday and our lowest on Wednesday morning. We had some fantastic support for pricing on the back of some very strong demand for the U.S. 10 year Treasury auction. But MBS reversed course Wednesday afternoon after the minutes from the last FOMC meeting were released at 2:00EST. Traders were looking for some sort of hint about another round of quantitative easing, but for the 4th meeting in a row, the Fed gave no indication that QE3 was on its way. As a result, bonds sold off from their highs and mortgage rates move off of their historic lows.
What to Watch Out For This Week:
The following are the major economic reports that will hit the market this week. They each have the ability to affect the pricing of Mortgage Backed Securities and therefore, interest rates for Government and Conventional mortgages.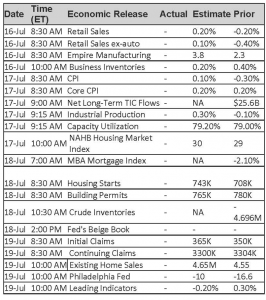 We will be watching these reports closely for you and let you know if there are any big surprises: It is virtually impossible for you to keep track of what is going on with the economy and other events that can impact the housing and mortgage markets. Just leave it to us, we monitor the live trading of Mortgage Backed Securities which are the only thing government and conventional mortgage rates are based upon.