Realtor Nationwide Open House Weekend, April 20th-21st
Posted by Ashley Whitworth on Thursday, April 18, 2013 at 3:46:12 PM
By Ashley Whitworth / April 18, 2013
Comment
This weekend, April 20th-21st, is the Realtor Nationwide Open House Weekend.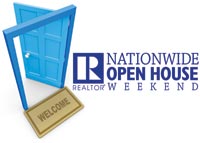 This weekend is poised to bring buyers and sellers together and to promote the benefits of homeownership to families and communities throughout the nation. An Open House is one of the biggest tools a Realtor has to buy or sell a home. According to the National Association of Realtors, over 45% of recent buyers used Open Houses as a way to find their dream home. This event is a great way for buyers to get an idea of what kinds of homes are available in the local market. It's also a chance for sellers to market their home and attract potential buyers.
We here at Milestone Realty Consultants are ready to bring you some of the best listings in the Bluegrass! Check out our list of Open Houses going on this weekend
on our website
!