Put Your Dukes Up--It's Open House Time!
Posted by Ashley Whitworth on Tuesday, March 17, 2015 at 9:12:48 AM
By Ashley Whitworth / March 17, 2015
Comment
Be careful. You might get trampled at an
Open House
.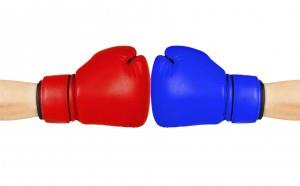 Even as I type those words, it seems hard to imagine, but it's true! With the weather warming up and so few houses on the market, people wanting to buy are clamoring to see available houses for sale. The competition in today's housing market is suddenly fierce, so fierce that some are calling the cops. "We got shut down!!" laughed Catherine Luther, an agent with Channing Real Estate in the Boston area. "I've been in this business for 30 years, and it's never happened before." At a Saturday open house at her listing in suburban Belmont, she had over 100 people in 45 minutes, which blocked the street. Neighbors called police, who shut down the open house. Then Luther smartly hired an off-duty officer to direct traffic the next day for the Sunday open house. The officer counted more than 150 cars. The three-bedroom colonial house went under contract three days later with more than a dozen bids. City to city, neighborhood to neighborhood, the story is the same everywhere. Spring demand is coming out with the sunshine, but there is just nothing to buy. There was just a 4.7 month supply of homes for sale in January, even before the spring surge, according to the National Association of Realtors. Six months is considered a balanced market. While more sellers are listing now, it is not nearly enough to meet demand. Driving demand are several factors: increased consumer confidence, better employment and sky-high rents. More than 12 percent of current renters in the nation's 20 largest housing markets now say they intend to buy a home in the next year, according to a survey just released by Zillow, a real estate company. That is about 5.2 million renters, a 25 percent jump from a year ago. "As home affordability continues to look great and rental affordability looks abysmal, many current renters clearly seem to be rethinking their attitudes toward home ownership, and are expressing more confidence in the overall housing market as a result," said Zillow Chief Economist Stan Humphries. If you're thinking of selling your home in the near future, NOW is the time to get it on the market.
Contact one of our professional real estate agents
to get started and
see how much your home is worth
!