June Festivals in Central Kentucky
Posted by Ashley Whitworth on Wednesday, May 29, 2013 at 9:20 AM
By Ashley Whitworth / May 29, 2013
Comment
Summer is (unofficially) underway and that means a lot of festivals in Central Kentucky! We have your go-to guide for all the events and festivals going on in June in Central Kentucky!
Berea: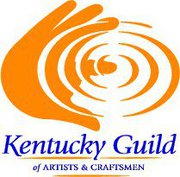 Kentucky Guild of Artists and Craftsmen Spring Festival: June 1-2, 2013, Indian Fort Theater Kentucky's finest arts and crafts people will have a showcase of their work at the KGAC's Spring Festival June 1st and 2nd at Indian Fort Theater in Berea. Attendees will be able to see items in glass, ironwork, jewelry, pottery, wood, photography, and 2D fine art. Live demonstrations are available for enjoyment and education throughout the fairground, as well as live musical entertainment and fun-filled hands-on activities for children of any age. For more information and directions, visit their website.
Lexington:
Best of the Bluegrass Festival: June 3rd-June 9th, various locations throughout Lexington In conjunction with the Festival of the Bluegrass, the Best of the Bluegrass is a week-long celebration of Bluegrass music with national and regional artists performing at many local venues and numerous "hands on" workshops with some of the top names in Bluegrass music. The festival includes the 40th annual Festival of the Bluegrass at the Kentucky Horse Park with Colt Trolley service available from the center of downtown Lexington out to the Park. Participating venues include Southland Jamboree, the Kentucky Horse Park, WoodSongs Old Time Radio Hour, Willie's Locally Known and many more. For more information, visit the Best of the Bluegrass website.
2013 Vintage Kentucky Wine and Beer Festival: June 15th 5-10pm, 5/3 Bank Pavilion at Cheapside Park Experience a true festival environment in the heart of Downtown Lexington! Discover what Kentucky wineries and breweries have to offer while enjoying live local music! Wineries and breweries from across the Bluegrass will serve up samples of their delicious potables. When you find something you enjoy, purchase a glass for only $5. Bottles of wine and light fare will also be available for sale. Tickets are $20 per person and include 10 tasting vouchers and a glass. For a list of wineries and breweries scheduled to appear, visit the Downtown Lexington website.
Georgetown: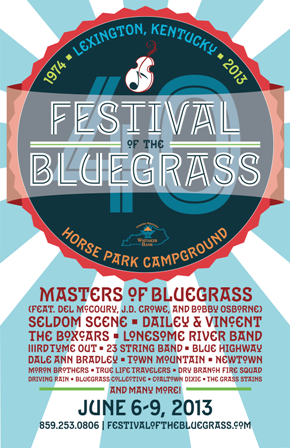 Festival of the Bluegrass: June 6th-9th, Kentucky Horse Park Since 1974, the Cornett Family of Central Kentucky has been bringing the best Bluegrass to the Bluegrass. Still going strong (and celebrating its 40th year!) the Festival of the Bluegrass is the premier traditional Bluegrass Music Festival in the country. Come spend the day with some of the best Bluegrass music artists, or spend the weekend camping out and enjoying the music! Kids can also enjoy a Bluegrass Music Camp for kids age 6-18 Tuesday through Thursday of the Festival. Tickets can be purchased at their website.
Danville:

Great American Brass Band Festival: June 7th-9th, Downtown Danville, KY The Great American Brass Band Festival is a one-of-a-kind event committed to preserving brass band music through performance and education. The Festival seeks to showcase diversity in brass through a variety of genres, presentations and performances. In addition, the Festival is committed to bringing the best brass musicians in the world to its stage. Patrons enjoy performances, free of charge, in historic downtown Danville, Kentucky. For a full schedule of performers, visit the GABBF's website.
Winchester:
Winchester Beer Cheese Festival: June 8th from 10am-5pm, Downtown Winchester, KY Winchester First, A Downtown Program, is proud to host the 5th annual Beer Cheese Festival in their Historic Downtown District! Last year an estimated 10,000 people packed the streets of Downtown and this year promises to be just as fun! Visitors will be able to sample Beer Cheese, listen to live music, eat great food, and shop from local vendors. A $5 wristband is required to sample all the varieties of beer cheese. Visitors will be able to vote for their favorite beer cheese and the winner will be announced at the conclusion of the festival. For more information, visit their website.
Midway:

Francisco's Farm: June 22 from 10am-6pm and June 23 from 10am-5pm, Equus Run Vineyards Named a Top 20 Event by the Southeast Tourism Society and a Top 10 Art Fair & Festival by American Style Magazine, Francisco's Farm is an opportunity to mingle with more than 100 artists, shop for one-of-a-kind fine art, enjoy delicious festival food, listen to live music, and spend a summer's day in magical Midway, Kentucky. Admission to the festival is $10 per vehicle. There is no additional charge for parking. Tickets for the special Saturday Evening Concert is $5 with admission ($15 total).