July 4th Holiday Events
Posted by Ashley Whitworth on Tuesday, July 3, 2012 at 7:49 PM
By Ashley Whitworth / July 3, 2012
Comment
Lots of events are going on this week for the July 4th holiday. Here's a list of the events going on around Central Kentucky!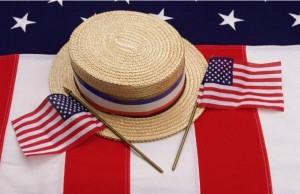 Tuesday, July 3:
Patriotic Music Concert Featuring the Lexington Philharmonic & Lexington Singers at Transylvania University and Gratz Park 8:00pm. The Young At Heart Jazz Band will perform in Gratz Park from 5:30-7:30.
Wednesday, July 4:
Bluegrass 10,000 Foot Race 7:30am - enjoy live music from Still Kickin at the end of the race course from 8:00-10:00
Downtown Street Festival 9:00am-6:00pm
Reading of the Declaration of Independence at Main Street and Fifth Third Bank following the BG 10,000 Awards Ceremony
Parade from Midland Avenue down Main Street to Broadway 2:00pm
July 4th Live! at Main Street and Minter Way. Performances by Mama's Blue Dress (6:00-7:45) and Swing Street (8:00-10:00)
Downtown Fireworks 10:00pm
Thursday, July 5:
Central Bank Thursday Night Live featuring Better off Dead (80's) at Fifth Third Bank Pavilion at Cheapside Park 4:30-7:30pm
Saturday, July 7
Red, White & BOOM Concert at Whitaker Bank Ballpark 12:00-10:00pm
Wednesday, July 4th:
Richmond Fireworks Extravaganza from 2:00pm-10:00pm at Lake Reba Park

Entertainment on the Verizon Stage 4:30p.m.- Battle of the Bands Winner 5p.m.- Matt and Shawn 6p.m.- Westbrook Trio 7p.m.- Boogie G & The Titanics 8:30p.m.- Faded Blue 10p.m.- FIREWORKS
Chick-fil-A Kids Zone opens at 4p.m.
Food Vendors open at 4p.m.
There will be a $5 parking fee per car
Wednesday, July 4th:
Fourth of July Spectacular-5:00 pm in City Park
The Freedom Riders Band-5:00 pm
Danish gymnastics exhibition- 7:00 pm
Veterans' recognition ceremony- 7:30 pm
The Prefab Rehab band will play from 8:00 pm - 10 pm
Fireworks-10:00 pm
Wednesday, July 4th
Parade begins 11 a.m. on Main Street in Downtown Georgetown
Other events throughout the day will be held at Brooking Park.
Fireworks will begin at 10:00 pm.
Wednesday, July 4th
"Fireworks, Flipflops, and Friends" Beach Party at The Fair Ampitheater. Gates open at 4:30, entertainment starts at 6:00
Wednesday, July 4th:
Festival of the Fourth- Parade begins at 10:00 in Downtown Wilmore, Festival is immediately after Parade at Wilmore Campground.
There will be crafts, a Spelling Bee, a "Best Cupcake" contest, kids and family activities, and food and entertainment throughout the day. The Jessamine Jazz Ensemble will be the featured musical guest
From all of us here at Milestone Realty Consultants, we want to wish you a safe and happy July 4th holiday!