Decorating Your Home: How to Wrap a Present
Posted by Ashley Whitworth on Friday, December 14, 2012 at 11:27 AM
By Ashley Whitworth / December 14, 2012
Comment
Each Friday until Christmas, we'll be featuring a different area of your Kentucky home to decorate for the holidays. Last week, we showed you different examples of how to decorate your mantel. This week, we will focus on gift wrapping.
I think wrapping gifts is probably one of my favorite things to do around the holidays. I'm sure I'm probably part of the minority, but I've always liked the fact that you can dress up a present just by using different kinds of wrapping paper or decorations. From ribbons and bows to tinsel and paper, the possibilities for different kinds of wrapping are endless! For those of you who are wrapping-challenged, here are step by step instructions from WikiHow on how to wrap the perfect present.
Step 1: Remove all price tags. There's nothing more annoying than investing your careful efforts into a gift only to realize you forgot to take the price sticker off. If you cannot remove the sticker, get a black pen and black out the price.
Step 2: Put the gift in a box, if it isn't in one already. This optional step will make the gift easier to wrap. If your box comes apart easily (like a shirt-box), be sure to use a little bit of tape to keep it from opening during the wrapping process. Use only as much as necessary to keep it from coming apart, not so much that the person will need a machete to open it.
Step 3: Unroll a length of wrapping paper onto a hard sturdy surface.
Step 4: Place the gift on the wrapping paper and measure how much paper will be needed. Make sure you have enough paper to go around the box once and that the width leaves extra on each side. It's a good idea to have a small amount more than you need so that the wrapping paper overlaps.
Step 5: Mark your cut lines. Especially if cutting in straight lines is difficult for you, be diligent about this. Use a straight edge (like a ruler) or you can fold neatly along the line you will need to cut along, unfold, and cut along the fold. Put the rest of the roll aside.
Step 6: Place the gift or box upside down in the middle of your paper. This will make sure that the recipient of the gift, when opening it, will land on the top of the box instead of the bottom.
Step 7: Fold the paper around the gift. On the horizontal side of the paper, take one side and fold it over to the bottom of your gift. Then take the other side, folding it over, too. Now is where you need that extra inch. Take the longer side and fold it under so that you have a nice smooth crease instead of jagged cutting. Put it on top of the other end and pull it tight. Then tape together.
Step 8: Fold one side of the box at a time. On one end of your package, fold the corners in so you have kind of like a triangle. Fold the straight end over, then pull it to the top of your package. Tape. Repeat on the other side. Get creative with the type of wrapping paper you use!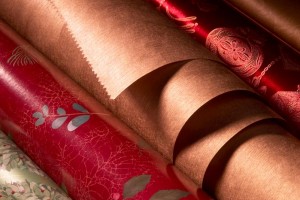 Use photos of the person to whom the gift belongs instead of gift tags.
Assign each member of the family a different colored wrapping paper and skip the gift tags. Hide a small slip of that paper in that person's stocking, so that they'll be able to find which present is theirs.
Next week is our final Friday before Christmas! We'll show you ways to decorate your holiday table.