Christmas Gifts For New Home Buyers
Posted by Ashley Whitworth on Thursday, December 20, 2012 at 1:20:49 PM
By Ashley Whitworth / December 20, 2012
Comment
Christmas shopping can be a chore. Between navigating the circus that is the mall parking lot and trying to find the perfect gift for the person who has EVERYTHING, let us help make your shopping trip a little easier with some gift ideas for the person who has just moved in to a new
Kentucky home
this year! Below is our top 10 list of gifts for first time homebuyers.
1. Lawn Equipment. Chances are, the first time homebuyer is moving into their new digs from some sort of rental unit. Most of the time, most (if not all) of the lawn care is provided. Help ease them into yard work and numb the big upfront cost by purchasing basic items. Lawn equipment like shovels, garden hoses and rakes are useful gift ideas for Christmas.
2. Tool kit. First-time home buyers will definitely value, use, and appreciate a basic tool kit. It doesn't need to be expensive or top-of-the-line tools; however, good tools will last generations. A basic home repair toolbox contains essential items such as a hammer, hacksaw, pliers, assorted screwdrivers, plumber's wrench, basin wrench, drill and a tape measure.
3. Magazine subscription. Give your friend a subscription to their favorite magazine! Most of the mail they'll receive at first will be coupons from home improvement stores and junk mail about refinancing. Give them something fun that will arrive in their new mailbox every month.
4. Picture frames. Because purchasing a new home is such a huge moment in someone's life, you'll want to make sure to capture the memories as they happen. A photo frame will help preserve the moment for years to come. Take a photo of the outside of the home and put it in the frame.
5. A Welcome Mat. Nothing says "Welcome" quite as distinctly as a Welcome mat. You can find some really creative mats at local home retailers or online.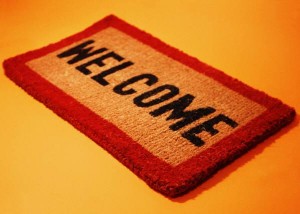 6. A Christmas ornament. Commemorate your friend's first Christmas in their new home by getting them a personalized Christmas ornament. Make a copy of their house key for a simple ornament to hang on the tree. Commission a local artist to paint their house. When they start to trim their tree, they'll always be able to remember their first house.
7. A ladder. With all of the expenses of owning your first home, most people won't expect ladders to cost as much as they do, nor will they think of buying one until the first time they really need one! It's a little bit of a strange gift, but they'll thank you every time they need to change that light bulb in the hall or get on the roof.
8. A neighborhood guide. If the homeowners are new to the Central Kentucky area, why not help them out with what's around town? Grab take-out menus from local restaurants. Get a map of the city and mark the best pizza joints, comedy club, or nail salon around town.
9. A home improvement book. Most first time homeowners don't know what routine maintenance needs to be done on the house and when. A good book on household maintenance and repair is the perfect gift for the first time homeowner.
10. Gift cards. You'll never get the wrong size or color if you get a gift card. Let the new homeowners pick out what they want. Usually a gift card to Lowes or Home Depot will be most appreciative.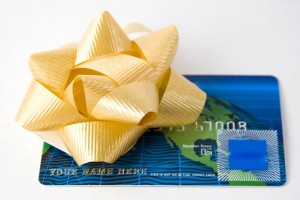 Do you have any other gifts you would add to our list? What was something you received as a first-time homebuyer?