Blue is the Hue
Posted by Ashley Whitworth on Thursday, May 21, 2015 at 4:00 PM
By Ashley Whitworth / May 21, 2015
Comment
This spring feels like a fresh start, doesn't it?! Especially after the heavy dose of winter we had this year! Once the days get longer and the temperature rises it is always nice to refresh things around your house. Once you have handled all your spring cleaning, you can do so many things to refresh your home for spring. Updating your decor is one simple way to refresh your home. Yes, I did just use the word simple. It can be something as little as swapping in a new set of pillows or adding fresh flowers to a vase. If you're considering refreshing your home, you should consider the new 'it' hue. Blue. Any color of the shade goes, but one that seems to be trending more that others is the color navy. Navy is a versatile, neutral color that one can easily incorporate into their decor! You can mix and match so many prints and other colors with this neutral.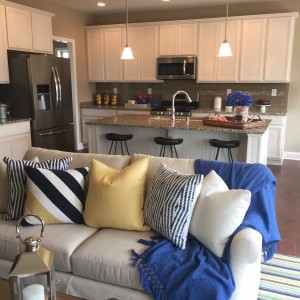 This is the perfect example of how to refresh your home by using the 'it' hue. Swap out some old pillows for a fun set like the one above. The different prints and shades of blue are a fun mix, and the yellow goes perfectly with navy. That little detail alone updates and brightens the room!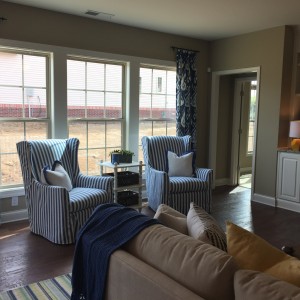 Want to make a statement using the hue? Choose blue prints or patterns! Update your window treatments or cover your chairs with the different patterned fabric. Again, because navy is a neutral, and navy is the predominate color within the two prints, mixing the two prints isn't going to overwhelm the space. The neutral tone makes the mixed prints feels subtle and fresh! There really are no rules when it comes to using this hue in your home's decor or when it comes to refreshing your home. Adapt it to your own personal interior style and have fun with it!