2014 Leading RE Annual Conference
Posted by Becky Ernst on Thursday, March 20, 2014 at 9:11 AM
By Becky Ernst / March 20, 2014
Comment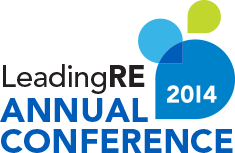 Photo Source: www.leadingre.com
I recently attended the 2014 Leading RE Conference in Las Vegas and was once again amazed at the impact of this annual conference. LeadingRE stands for The Leading Real Estate Companies of the World, which is a network of Affiliates from all over the world made up of an elite group of the most productive, innovative and respected professionals in the industry, as Chairman of the Board of LeadingRE, Robert Sibcy, put it. Members are able to send and receive referrals from all over the world.
As always, the conference started off with a General Session with excitement. There was an awesome production from members of "Dancing with the Stars". The keynote speaker for the opening session featured the dynamic, Daniel Pink, top-rated business author of "To Sell is Human: The ABC's of Moving Others" .
The week was full of many different breakout sessions with current topics and presenters that are experts in the Real Estate industry. Topics ranged from "Strategies to take your Brokerage to Top" to "Getting the Most Out of Mobile, Video and Social for Your Company". The networking with other Affiliate Companies is priceless at this conference. I was able to meet so many Relocation Managers from all over the World; many of whom I have done referrals with in the past. The Annual Conference Awards Gala was over the top! Sponsors for the event include HGTV, Virtual Properties, Inc., 2-10 Home Buyers Warranty and PCMS and One Cavo. It was a night to remember as LRE members were recognized for their performance the past year.
The Closing session was undoubtedly, one of the best presentations I have ever seen! Rorke Denver, former Navy SEAL, who starred in "Act of Valor", gave on outstanding and inspiring presentation on the values of training, preparation, teamwork and motivation in the corporate world.
Once again, LRE provided one of the best and most worthwhile conferences that I attend. I can't wait to see what is in store next year in New Orleans!!!