10 Ways to Cut Your Moving Costs
Posted by Ashley Whitworth on Thursday, August 30, 2012 at 7:31 PM
By Ashley Whitworth / August 30, 2012
Comment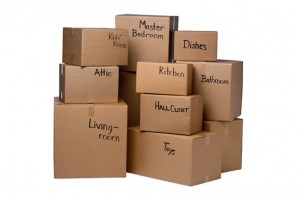 Buying a new Kentucky home is fun--moving, however, is not. Frontdoor.com gives 10 ways to make the process a little easier by paring down costs.
1. If you don't need it, don't pay to move it.
Movers base their prices on what you're shipping, so cutting down on clutter will not only simplify your life, but also cut down on moving expenses. Sell or donate what you don't need or use anymore. Yes, that may mean getting rid of that treadmill-turned-drying-rack!
2. If possible, schedule your relocation after peak moving season.
Most people choose to move in the summer months, after kids are out of school. That translates into a premium price for moving companies. The least expensive times to move are October-April. If you're able to postpone your move, you could save some money.
3. Get at least three in-home estimates.
If you're hiring a professional mover to do the heavy-lifting and packing, prices can vary widely from company to company. To ensure that you're getting the best deal, get quotes from at least three different companies.
4. Don't get scammed by a rogue mover.
You'll be loading all your worldly possessions in a truck with a complete stranger. Make sure you're protected! Look for red flags and get recommendations from friends, family, and neighbors to avoid getting scammed.
5. Use what you have for packing, and then buy your own supplies.
Moving companies often charge hefty fees for packing supplies. Save money by packing your items in things you already own like drawers, suitcases, and plastic bins. Use sheets and linens to wrap breakable items. Buy packing material you need from a recycled box company, or get them free from local businesses.
6. Ask questions to unearth hidden moving costs.
Even legitimate movers might not spill the beans about all costs unless you ask them. To get a more accurate picture of how much you'll spend, ask if they'll charge for heavy items, repacking, stairs, or waiting.
7. Get portable storage and delivery.
Companies like PODS and 1-800-PACKRAT will deliver a storage unit to your door. You'll save money packing it yourself, and they'll pick it up and deliver it to your new home.
8. Rent a truck for a totally DIY move.
Renting a truck and doing it yourself is the most cost effective way to move. Enlist the help of your friends and family for packing, and read the fine print for mileage allowances and fuel surcharges.
9. Get moving insurance.
Even the best movers have one potential pitfall: they're human. If you do wind up with a lost or damaged item, you'll likely need more than the 60-cent-per-pound coverage that comes free to replace it.
10. Deduct your moving expenses from your taxes.
Don't forget to save those receipts--you can also save money after the big move! If you've relocated for a new job more than 50 miles away from your previous home, you can deduct the cost of packing, transporting, or storing your household goods from next year's tax returns.